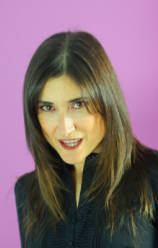 I am a writer who has more than twenty years of experience.
I have been coaching writers for over a decade.
I studied with Anne Lamott and Pulitzer Prize-winner Michael Cunningham.

I have a BA in Creative Writing from the University of California Santa Cruz and an MA in Transformative Learning and Human Development from Antioch University Midwest.
I earned a copyediting certificate from the University of California San Diego.

I lead popular workshops that use improv as a tool to help attendees break through writer's block, increase creative output, and organize raw material into compelling, finished pieces.

Before I became a full time editor/writer, I ran an improv school for Ryan Stiles of Whose Line Is It Anyway, cleaned fish in Alaska, and worked as a production manager for The Gap.

When I am not writing, editing, or reading, I am geeking out about Renaissance history, Star Wars, and my long-haired miniature dachshund Momo Kaiju.

















---